Back to all news
A gold medal for Tripick 7° at the Brussels Beer Challenge 2022
Tripick, the unmissable Liège brand specialized in creating non-filtered high-fermented beers, has been awarded the gold medal in the "amber beers" category for Tripick 7°. A real recognition for this seasonal product given the prestigious character of the prize and the reputation of this competition.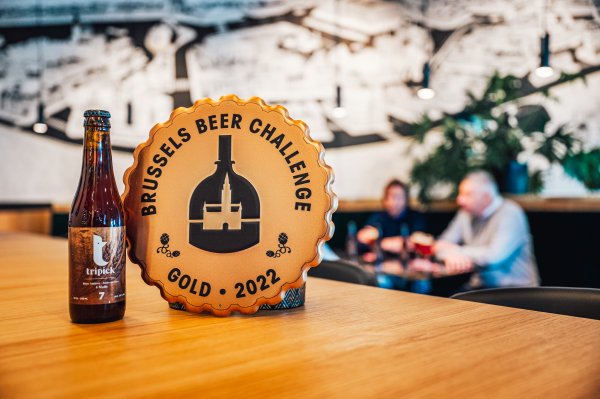 The announcement was made on Monday, during the Brussels Beer Challenge 2022 awards ceremony, which took place in the Horeca Expo room in Ghent. Tripick 7° was chosen as the winner of its category, therefore winning a gold medal. Composed of 4 malts and 3 carefully selected hops, Tripick 7° with its pretty amber color, rich aromas and subtle notes of caramel, was able to win over the hearts and taste buds of the jury of this international competition that was celebrating its 11th anniversary.
Dedicated to supporting the culture of beer and allowing the development of a platform for international brewers to meet and promote, this annual competition welcomes an average of 1,800 beers from all over the world. These were divided into 8 major categories depending on their origin, typicality and style, and tasted by a panel of 85 internationally renowned beer enthusiasts. At the end of the tasting process, which took 3 days, 3 beers per category were given a prize going from bronze to the prestigious gold medal, which was awarded to Tripick 7°.
A real recognition!
The award was received with great pride by the Liège brand's teams who can now use this medal as a guarantee of quality and a marketing tool.
"Tripick 7° is the fifth addition to our range. It was carefully thought out to offer the market an amber beer with specific and unique aromas. Other than the fact that this prize is a real recognition of the work done to create this exceptional beer, it is also a magnificent opportunity to make our product known and have it consumed. Because this is also the purpose of the Brussels Beer Challenge: to allow consumers to choose a beer that will keep its promises in terms of quality and flavors." said Frédéric Ambroise, co-founder and experienced brewer behind the Tripick products.
Tripick 7° has been on the market since the end of 2021. It has also been on tap at Le Tripick brasserie-restaurant, the reference establishment for the brand located across from the Guillemins station, where you can also have it cooked with Liege meatballs, the flagship dish of this establishment with a cool & chic ambiance.